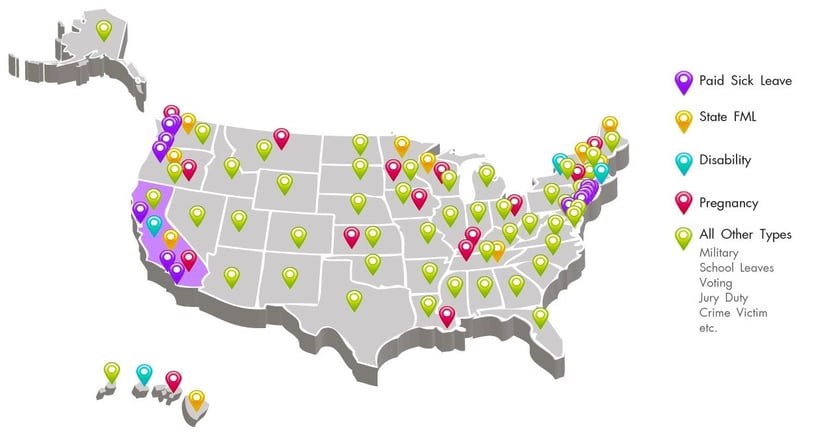 There appears to be no stopping the paid sick leave law trend from gaining momentum as it continues to spread across the country. In addition to 13 cities nationwide, California has become the second state to join the ranks of jurisdictions with paid sick leave laws. In fact, this list already includes three cities located in California -- San Diego, San Francisco, and Long Beach. What a headache for California employers who are trying to manage employee leave!
Signed into law on September 10th by California Governor Edmund Brown Jr., the Healthy Workplaces, Healthy Families Act of 2014 becomes effective on July 1, 2015. It provides up to 24 hours (3 days) of paid sick time per employment year to employees who work more than 30 days in a year in California. The law extends paid sick leave to essentially all employees with one exception - home health care aides, such as those who provide care for the elderly and disabled.
Eligibility, Entitlement and Accrual Rate

The law's terms for accrual and use of paid sick leave are a bit complicated. Under the law, employees accrue one hour of paid sick time for every 30 hours worked, and employers can cap the total accrued hours at 48 hours (six days). Although the bill comes into effect on July 1, 2015, an employee cannot immediately begin accruing hours at that date; first, they must have worked for their employer in California for 30 days following July 1, 2015 (or following their date of hire, if they are hired after the bill goes into effect). This means that the earliest an employee can begin accruing paid sick leave is July 31, 2015.
Regardless of the July 1 accrual start date, employees can begin using their paid sick leave after they have been employed by their organization for 90 days. That means that an employee who has already worked for 90 days before July 1 cannot start accruing paid sick leave until July 31, but he can start using his paid sick leave immediately after this accrual period is complete. On the other hand, an employee who is hired on July 1, 2015, will not be able to start accruing paid sick time until July 31, and will not be able to use this time until September 29, 2015.


Qualifying Reasons for Use

Accrued sick time may be used for any of the following situations concerning the employee or a family member, following an oral or written request by the employee in question:
Diagnosis, care or treatment of an existing health condition
Preventative medical care
Situations involving domestic violence, sexual assault or stalking
Note: the California law expands the definition of family member to include grandparents, grandchildren, and siblings.
The law does not specifically allow an employer to require documentation from an employee that proves that they have used sick time for a covered purpose. An employee must provide "reasonable advance notification" if their absence is foreseeable.


Other Key Factors to Consider:


Accrued paid sick days may carry over to the following year of employment, but the employer may limit an employee's accrued time to 48 hours.
If an employee's pay rate varies (ex. different hourly pay or commission rate), their sick leave pay wage will be determined by dividing their total wages for the previous 90 days of employment by their total working hours for the same period.
At an employee's termination, an employer is not required to compensate the employee for unused sick days.
If an employee ends their employment with an employer but is rehired within one year by the same employer, they regain access to the same unused paid sick leave that they had previously accrued.

Next Steps

So what's next for California employers? It's important to reevaluate your company's leave policies to determine if your organization already meets the law's requirements in terms of accrual, use and other conditions for paid sick leave. You must also ensure your organization is capable of keeping records to document paid sick day accrual and use, and of maintaining such records for three years.

Don't forget -- an employer cannot:
Require employees to find a replacement to cover a shift they are missing due to paid sick leave.
Take an adverse employment action (ex. termination, demotion) against an employee for using accrued sick days or otherwise exercising their rights under the new legislation.


California employers located in San Diego, San Francisco and Long Beach also need to be aware of their rights and obligations under the state law in addition to their respective local legislation. Compliance will certainly be challenging for those located in these districts, and the challenges will likely continue to grow as more states and jurisdictions join with laws of their own. And with Massachusetts voters going to the polls in November over a similar sick leave law, that number seems likely to continue to grow.


Finding yourself overwhelmed with the latest developments in leave legislation? Your organization can find peace of mind by leveraging a cloud-based absence management software solution like Presagia Enterprise.
About Presagia
Founded in 1987, Presagia has a long history of helping organizations solve complex business problems with easy-to-use solutions. Today, this means providing cloud-based absence management solutions that enable organizations to be more efficient, control lost time and risk, and strengthen compliance with federal, state and municipal leave and accommodation laws.