As a stand-alone piece of legislation, the Americans with Disabilities Act (ADA) can be confusing enough. But what's even more confusing is understanding when and how an employee's case can transition from leave under the Family and Medical Leave Act (FMLA) to accommodation under the ADA -- especially since the ADA can also support "leave as a reasonable accommodation."
So how do you know when to consider both laws? Let's examine the two main ways an employee's case can transfer between coverage under the two acts.
1) Leave of absence as a reasonable accommodation.
One of the ADA's main goals is to allow employees with disabilities to remain at work via reasonable accommodations. If you cannot find a reasonable accommodation that will allow an employee to remain at work, you need to consider offering leave as a reasonable accommodation. Unlike the FMLA, ADA leave does not have a limit and the employee does not have to return to work until they have fully recovered from the condition that prevents them from working, unless the employer can prove that the employee's leave is an undue hardship for the organization.
If an employee is covered by both acts (see below), he or she has the right to protection under whichever law gives them greater rights or benefits. For example, they have the right to take a leave of absence under the FMLA even if they could continue working with an ADA accommodation (and vice versa). An employee cannot be forced to take FMLA when they could remain at work.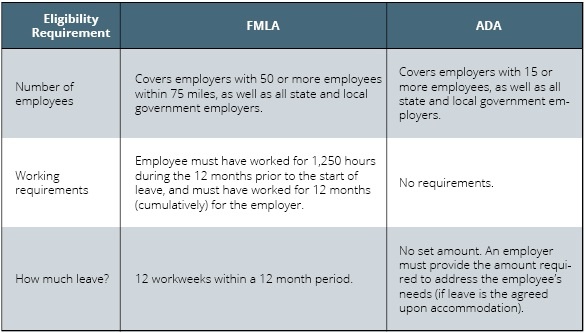 2) Returning an employee to work after an FMLA leave.
If an employee has exhausted their FMLA leave, but is unable to fully return to work because of a disability, you must consider them for an ADA accommodation rather than immediately terminating them, which might include extending their leave. An employee on FMLA leave could also request an accommodation under the ADA to facilitate their return to work before they have used all 12 weeks of FMLA leave.
While these two ways provide an overview of the way the ADA and FMLA can overlap, it's important for employers to be aware of their rights and responsibilities under the legislation to protect themselves against legislation. To learn more, keep an eye out for Presagia's upcoming ADA whitepaper, which will describe the legislation in more detail and provide employers with guidelines and tools for properly managing employees covered by the two laws.
To learn more about how technology can help your organization manage ADA accommodations alongside the FMLA and other leave laws and policies, check out our absence management software solutions or contact us to learn more!
About Presagia
Founded in 1987, Presagia has a long history of helping organizations solve complex business problems with easy-to-use solutions. Today, this means providing cloud-based absence management solutions that enable organizations to be more efficient, control lost time and risk, and strengthen compliance with federal, state and municipal leave and accommodation laws.
Don't want to miss a blog post? Drop us your email and we'll keep you up to date on all the latest FMLA, ADA and other leave-related news.