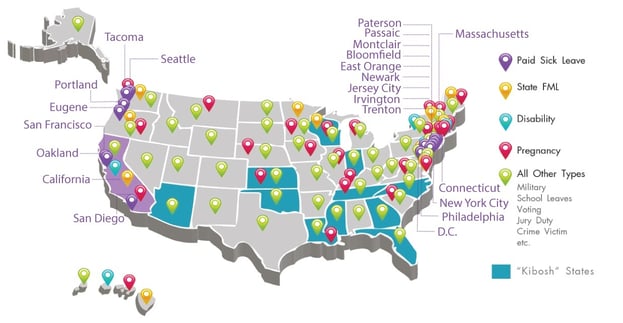 What's the biggest ongoing headache in leave management these days?
From California to New Jersey, more and more jurisdictions are requiring employers to provide paid sick leave. For employers—and especially multi-jurisdictional companies—this means an increasingly urgent need to pay attention to this trend.
That's why we're proud to announce that we'll be presenting on paid sick leave for the second year in a row at the 2015 DMEC FMLA/ADAAA Compliance Conference. "Keeping Up With Paid Sick Leave: Compliance and Employer Best Practices" will build on last year's session and will once again feature our expert co-presenters, Teri Weber of Spring Consulting Group and Michael J. Soltis of Jackson Lewis.
Join the session on Monday, April 20 at 3 p.m. to learn about:
Which paid sick leave laws were passed in the last year and what new challenges they pose for employers
How employers are rising to meet these challenges by adjusting existing policies or tailoring new policies
Best practices to help your organization stay on top of the trend
We hope to see you there! If you are unable to attend but are interested in Presagia's leave management software solutions, feel free to contact us for more information or to set up a demo.
About Presagia
Founded in 1987, Presagia has a long history of helping organizations solve complex business problems with easy-to-use solutions. Today, this means providing cloud-based absence management solutions that enable organizations to be more efficient, control lost time and risk, and strengthen compliance with federal, state and municipal leave and accommodation laws.