Can a 3-day conference do justice to the complex issues presented by the Family and Medical Leave Act (FMLA)
and Americans with Disabilities Act (ADA)?This is the enormous task undertaken with great success every year at the Disability Management Employer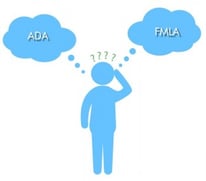 Coalition (DMEC) Compliance Conference. This year's conference was no exception, featuring an impressive array of sessions dealing with some of the field's toughest challenges.
While the conference covered a myriad of topics, we noticed 3 common themes for employers to bear in mind as we move into the future.
1. Intermittent FMLA and paid sick leave remain top troubles for employers.
And with good reason! The laws and best practices surrounding these issues are at best unclear and at worst a logistical nightmare.
Several sessions addressed the thorny issue of intermittent leave medical certification. Remember - while most FMLA management is comparatively straightforward, intermittent leave often requires greater flexibility. For example, you can't reasonably expect your employee's doctor to predict their next flare-up with certainty, so be aware that estimates of frequency and duration are just that. Don't risk litigation with a hard-nosed approach that refuses to designate absences outside the estimates!
Our session with Jackson Lewis and Spring Consulting Group highlighted the increasing difficulty of managing paid sick leave as more and more laws take root across the country (14 in the past year alone!). For more information, check out our guide, A Comparison of Key Elements of the 22 U.S. Jurisdictions with Paid Sick Leave Laws.
2. Communication is key to absence management.
More and more, employers are getting caught in the courts when they fail to reach out to an employee before terminating them. Remember this court case, where an employee claimed she never received an FMLA notice in the mail?
Cases like these reflect a growing trend where employers are held to high standards for ensuring clear and constant communication with employees. What's easier and less expensive than litigation? Simply picking up the phone to check in with your employee and make sure they have received and understood all communications.
Leave managers are tackling this challenge in innovative ways, such as by using software that automatically creates tasks, alerts and reminders to tell them their next steps in a case. These tools can also help remind you about more difficult steps, like making sure that you consider employees who run out of FMLA leave for accommodation under the ADA. Maintaining open lines of communication like this will help you catch problems before they escalate, and will also provide you with a clearly documented trail of your efforts!
3. It's about people, not just laws.
Many leave laws lack the clarity that employers crave, but leave management is not just about enforcing the rules; it's just as important to keep your employees happy and feeling that they have been treated fairly.
With laws like the ADA, for instance, this means it is often important to show the employee flexibility and understanding rather than following a stringent process all the time. At the end of the day, a happy employee is not only less likely to pursue legal action against your organization, but will also be a more productive and valuable part of your workforce!
About Presagia
Founded in 1987, Presagia has a long history of helping organizations solve complex business problems with easy-to-use solutions. Today, this means providing cloud-based absence management solutions that enable organizations to be more efficient, control lost time and risk, and strengthen compliance with federal, state and municipal leave and accommodation laws.