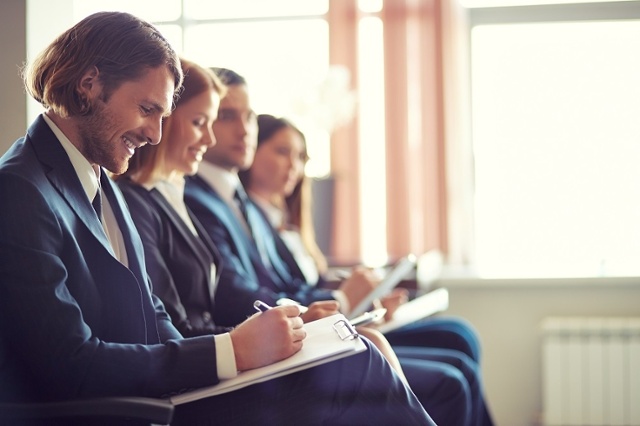 The 2016 DMEC FMLA/ADAAA Compliance Conference exceeded our expectations once again! We had a great time, had a lot of interesting conversations with fellow absence management experts, and were there for the DOL's Branch Chief for FMLA Helen Applewhaite's exciting announcement of the new Employer's Guide to the Family and Medical Leave Act.
We also attended several enlightening sessions - here are the highlights of what we learned at the conference.

1. Intermittent leave abuse might not be the root of the problem:
Jeff Nowak, Partner, Franczek Radelet, presented the general session Avoiding FMLA Lawsuits, in which he made the excellent point that in order to avoid litigation, employers must understand what they are actually fighting against. In cases where employees claim FMLA retaliation after being terminated, he argued that you are typically not dealing with vindictive or untrustworthy employees who tried to abuse FMLA and are now trying to profit from it. Instead, these are usually people who need their jobs - and may have difficulty finding a new one due to a disability - who feel they have been treated unfairly.
One thing most employees who sue for FMLA retaliation have in common is a feeling that, "I was treated unfairly."
Therefore, the way to prevent these cases is not necessarily to change the way employees are disciplined, but to be diligent in consistently applying policies and communicating with employees in a transparent manner. All policies should be documented and communicated, and employees should feel that they are being treated fairly.
The objective with clear and honest communication is to ensure that employees will understand what is expected of them and what is allowed. A reasonable employee should be able to reach the end of the process knowing exactly what was expected of them, knowing that they had an opportunity to correct any issues, and that a negative outcome is a result of their failure to meet expectations. If an employee knows why his or her actions were wrong, he or she will not have the sense that discipline or even termination was unjust.
One way to achieve clarity and consistency in communication, record keeping, and leave administration, is to have systems such as leave management software in place to track communication and automate a lot of the tasks involved in leave management. Not only does automation promote consistency, it frees up time for leave managers to interact and reach out to employees, making them feel treated fairly.

2. Laws and guidelines exist - but that doesn't mean employers always know how to follow them:
And that's no surprise - laws change quickly, courts set new precedents all the time, and it can be hard for employers with many other tasks on their plates to keep up. In Frank Alvarez Esq., Jackson Lewis P.C.'s general session, Breaking Down the Most Significant Compliance Developments of 2015-2016, attendees got an interesting and useful breakdown of several key cases from 2015, along with specific and achievable direction on how to address such situations. Here are a couple of highlights:
The Case: Hansler v. Lehigh Valley Hosp. Network - Employee was denied FMLA leave on the basis of an improperly filled out medical certification. Employer lost the case because the employee wasn't given the required amount of time to correct the insufficiencies in the certification.
The Takeaway: If something is vague on a medical certification (in this case, whether "one month" was the time the condition would last or the duration of the leave), get clarification before you make assumptions, and always ensure the employee is given the appropriate amount of time to correct deficiencies.
The Case: Doak v. Johnson - Employee was terminated for excessive absences after employer denied the ADA accommodation of allowing the employee to work from home, because being in the office for interactive meetings was deemed an essential function of the job.
The Takeaway: Protect yourself by ensuring job descriptions are up to date and the essential functions of each position are clearly defined.

3. Sometimes even experts can get it wrong:
Every year at conferences like this we hear from dozens of FMLA and ADA management experts, and we learn a lot. Sometimes however, we notice a few areas where even experts can still get stuck - proof of how tangled and confusing the world of leave management can be.
This year we noticed that many people are still attempting to manage and discuss the FMLA and ADA in isolation, rather than in interaction with one another and with other federal and state laws that can come into play.
For instance, when it comes to medical certifications the FMLA sets out certain regulations as to what can and can't be asked for. However, other laws such as GINA, and other Federal and State privacy laws, can have an impact on what can actually be asked for from an employee and their health care provider. Experts can still be heard suggesting that a doctor can provide detailed diagnosis information, but while this is technically permitted under the FMLA, other Federal and State privacy laws modify what can actually be asked by an employer and under what circumstances, as well as what healthcare providers can disclose. Such laws make collecting this information difficult and risky.
In many cases, the best way to ensure compliance with these laws is to take a "less is more" approach and only ask for information that is necessary to determine whether an employee suffers a serious health condition that prevents the employee from performing the essential functions of their job. For more information on best practices for FMLA medical certifications, keep your eyes open for our upcoming whitepaper on the subject!
About Presagia
Founded in 1987, Presagia has a long history of helping organizations solve complex business problems with easy-to-use solutions. Today, this means providing cloud-based absence management solutions that enable organizations to be more efficient, control lost time and risk, and strengthen compliance with federal, state and municipal leave and accommodation laws.