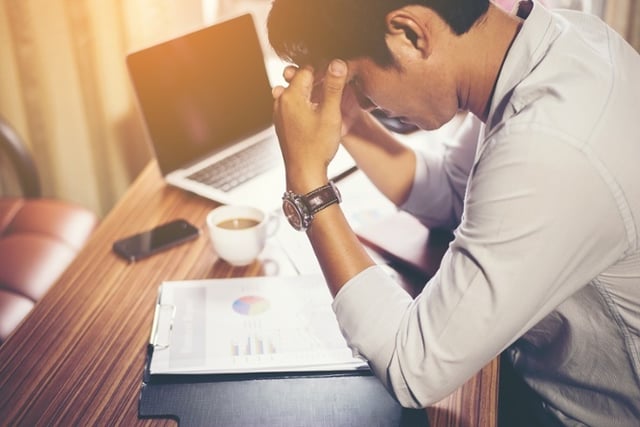 Managing the Americans with Disabilities Act (ADA) is no easy feat. To stay compliant, employers must engage in an interactive process to determine if they can accommodate an employee's disability without undue hardship on the organization. Any ADA mistakes made along the way can lead to a litigation nightmare. How can you stay away from these kinds of situations?
Avoid these 3 common mistakes and you should be well on your way to staying ADA compliant and making sure your employees are satisfied through a better experience in the interactive process.
(Did we mentioned we launched our all-new stand-alone ADA product? Read more about it here!)
1. Failing to Update Job Descriptions
When it comes to ADA disputes, job descriptions play a big part. Although there are no legal requirements for having a written job description, they're very practical to have on hand for numerous reasons. Under the ADA, an individual with a disability is protected from discrimination if they can perform the essential functions of their job with or without accommodation. In other words, if the employee can complete the fundamental tasks in order to get the job done, the accommodation needs to be approved if it doesn't create undue hardship for the employer.
So why are job descriptions so important?
In ADA lawsuits, the court's first step is often to determine what the essential functions of the job are. Job descriptions can play a key role in helping employers prove what the essential functions of the position are, and the extent to which a requested accommodation can be provided.
For example, in Slayton v. Sneaker Villa, Slayton, a corporate recruiter, took a short-term leave from her job at Sneaker Villa after getting into a bus accident. At the end of her leave, she asked her employer if she could work from home for 4 weeks until her doctor signed off on her return to work. She made it clear that she could perform all the essential functions of the job, except for attending job fairs. HR denied her initial request stating it was a busy time for the company and they needed a constant level of recruitment support. The next day she went into the office to discuss the matter with HR and was terminated.
Sneaker Villa argued that a physical presence was an essential function of the job and could not accommodate her. However, the job description said nothing about a presence in the office as an essential function. Therefore, the court ruled that the employer failed to accommodate the employee's request under the ADA.
Takeaways:
Make sure your job descriptions are accurate and updated regularly.

Label all job descriptions properly, clearly listing the essential functions.
2. Failing to Train Supervisors on Reporting Obligations
It's very common for employees to turn to their supervisor when an issue arises. The problem is, a supervisor isn't entitled to know about an employee's medical information. Additionally, supervisors don't have the authority to make a decision regarding a request for accommodation. As an employer, it's essential to train your supervisors to report all accommodation requests directly to HR without asking the employee for any additional information, or interfering with the process.
In Suvada v. Gordon Flesch Company, Inc, Suvada, a production clerk in Chicago, resigned the same day she told her supervisor she had just been diagnosed with stage-four cervical cancer. She expressed concern about her ability to meet her job responsibilities and asked if any easier jobs were available. Suvada reported that her supervisor was not aware of another job for her, and instead stressed that she needed the job filled and pressed Suvada to say if she would be able to carry out her duties. Suvada expressed further concern about her ability to perform, and was asked by her supervisor if she was giving her two-week notice. Suvada sent in her resignation and later brought her case to court. The court ruled that the employee's notification of her cancer to her supervisor was sufficient enough to trigger the employer's duty to engage in the interactive process of the ADA. The court stated that the supervisor should have directed Suvada to HR when she asked about any availabilities for different jobs.
Takeaway:
Train your supervisors in the accommodation process and the basics of the ADA so that they know what the next steps will entail and you reduce the risk of employer liability.
3. Ending the Accommodation Dialogue Too Early
The ADA accommodation process is also referred to as the interactive process. An employer is required to engage in the interactive process with an employee once the need for an accommodation arises. The interactive process requires communication and good faith from both parties to determine possible accommodations.
If a reasonable accommodation cannot be provided without undue hardship to the employer, this does not end the dialogue. The employer must think about 'accommodation of last resort', verifying if there is a vacant position elsewhere that the employee qualifies for, considering part-time work, or providing a leave of absence.
In Jacobs v. N.C. Admin. Office of the Courts, the employer acted in bad faith by failing to participate in the interactive process. Jacobs, who was originally hired as an office assistant, was quickly promoted to a deputy clerk position. This new role required Jacobs to work the customer service front-counter. Jacobs, who had social anxiety disorder, soon began to experience high stress, nervousness, and panic attacks while working the front counter. She asked her supervisor for re-assignment away from customer service for her disability. After no accommodation was made, Jacobs emailed her three immediate supervisors and again explained her situation, at which point she was informed that only Brenda Tucker, the clerk of the court, had the authority to approve requests. When Jacobs met with Tucker she was fired, prompting her to file an ADA suit. Evidence showed that working the front desk was not an essential function, as other clerks did not have that responsibility. The summary judgment concluded that no effort was made from all three supervisors and the clerk of the court to engage in the interactive process.
Takeaway:
Make sure you exhaust all available options before making a decision. If no reasonable accommodation can be found, then discuss this with the employee. The key to staying compliant with the ADA is always good communication and documentation.
In order to avoid these costly mistakes, we suggest staying up to date with the ADA. The more prepared and knowledgeable you are, the better equipped you'll be. How can you do that?
Now over you to! Do you know of any other common ADA mistakes we may have missed?


About Presagia
Founded in 1987, Presagia has a long history of helping organizations solve complex business problems with easy-to-use solutions. Today, this means providing cloud-based absence management solutions that enable organizations to be more efficient, control lost time and risk, and strengthen compliance with federal, state and municipal leave and accommodation laws.