The Holidays are fast approaching and you may be wondering as an employer if there are any legal requirements associated with employees taking vacation or holiday leave. We decided to publish this post outlining various questions HR personnel may have surrounding the holidays in order to assist our readers.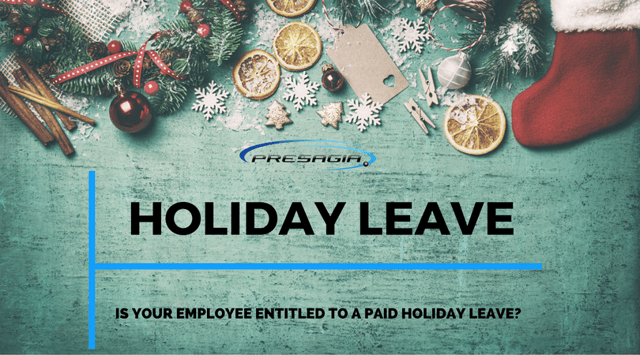 Do employers have to provide paid vacation leave or paid leave for federal or other holidays?
No, the Fair Labor Standards Act (FLSA) does not require employers to pay employees for time off taken for vacations, federal, or other holidays. Though paid vacations and holidays are not required by law, some employers do provide them to their employees as part of their employment benefits. It would be prudent to ensure your company does not already have an existing policy surrounding these leaves.

What if an employee becomes ill or injured during a vacation or holiday? Would the employee be eligible for FMLA or a Paid Sick Leave?
A FMLA eligible employee must be scheduled to work during the holidays and miss the scheduled workday in order to have that time designated under FMLA. Unlike Paid Sick Leave, which is granted and paid at the employer's discretion and by the employer's rules, FMLA is based upon the employee's "Workweek". Designation of FMLA time over scheduled company wide holidays can be tricky.
Employer closes for Christmas

on Monday

and

Tuesday

, is open

on Wednesday,

and closes for New Year's

on Thursday

and

Friday

.

If an employee is already on a continuous leave for this period and would have been scheduled to work except for the taking of leave, the employer may deduct 1 week of entitlement.

If the employee has an open and intermittent leave and does not report to work

on Wednesday

, as scheduled, the employer may also deduct 1 week of entitlement.
In general, an employer may deduct a full week of FMLA from an employee who misses all of their
scheduled
time during the holiday week, regardless of the number of days actually missed during the week they
became injured or ill. Paid sick leaves are generally not as proscribed as job protected leaves and vary in their access requirements depending on the jurisdiction and the particular company. Typically however, sick leaves are accessible during any unpaid leave for which an employee is eligible and entitled.
In regards to vacation days, an important thing to note is that time off taken for a vacation is usually not described as an absence in the same way as sick and statutory leaves because in real terms the employee is not expected to be at work. While an employee on vacation can be forced back to work, an employee can not be forced to return from leave.

How many employers currently provide their employees with paid vacation
or holiday leave?
According to a Bureau of Labor Statistics survey conducted in March 2016, seventy-three percent (73%) of the civilian workers surveyed received paid vacation and seventy-five percent (75%) received paid holidays. Seventy-six percent (76%) of workers from the private industry had access to paid vacation and seventy-seven percent (77%) to paid holidays, whereas fifty-nine percent (59%) of state and local government workers had access to paid vacation, and sixty-seven percent (67%) to paid holidays.
In order to stay competitive when recruiting top talent within the workforce, more companies have been offering employee benefits such as paid vacation and holiday time to attract potential recruits and keep their current employees satisfied.

When are the federal holidays in the U.S.?
The observed federal holidays in the U.S. are as follows:
For the remaining days of 2016:
Christmas Day - December 25
For 2017:
New Year's Day - January 1
Inauguration Day - January 20 (only observed by government employees in D.C., border counties of Maryland, and Virginia)
Martin Luther King, Jr. Day - 3rd Monday in January
George Washington's Birthday - 3rd Monday in February
Memorial Day - Last Monday in May
Independence Day - July 4
Labor Day - 1st Monday in September
Columbus Day - 2nd Monday in October
Veterans Day - November 11
Thanksgiving Day - 4th Thursday in November
When a federal holiday falls on a Saturday, it is observed on the Friday before. When the holiday falls on a Sunday, it is observed on the Monday after.

Looking for leave management solutions?
For large businesses with 1,000 and more employees looking for a solution to manage their employee leaves, find out more about our integrated solution Presagia Leave.
For smaller businesses with less than 1,000 employees looking for a solution to manage their employee leaves, find out more about our new web app Leave Genius which was developed for small to medium-sized employers.
For more leave law related topics, news, and updates, subscribe to our blog by completing the form below.

About Presagia
Founded in 1987, Presagia has a long history of helping organizations solve complex business problems with easy-
to-use solutions. Today, this means providing cloud-based absence management solutions that enable organizations to be more efficient, control lost time and risk, and strengthen compliance with federal, state and municipal leave and accommodation laws.
www.presagia.com
The content on this website is provided for general information purposes only and does not constitute legal or other professional advice or an opinion of any kind.