FOR IMMEDIATE RELEASE
MIAMI, Florida (November, 2016) - Presagia has officially launched a new website, providing visitors with an enhanced user experience to easily find information about its workforce absence and disability management solutions as well as useful resources on industry best-practices.

The revamped website includes in-depth details about the features of Presagia Leave and Presagia ADA, cloud-based solutions that help employers tackle employee absence and compliance with the FMLA, the ADA and more than 450 state and municipal leave rules. It also gives the website a modern look that guides visitors to the information they want and includes clear calls to action throughout.
"The idea behind the design of www.presagia.com was to bring it into the mobile era, giving it a fully responsive design that makes it easier for visitors to navigate - be it on their smartphone, tablet or desktop," says Geoff Simpson, Director of Sales & Marketing at Presagia. "You'll also notice a renewed focus on providing visitors with whitepapers, case studies, and blog articles on industry best-practices to share our knowledge and help employers continue to innovate."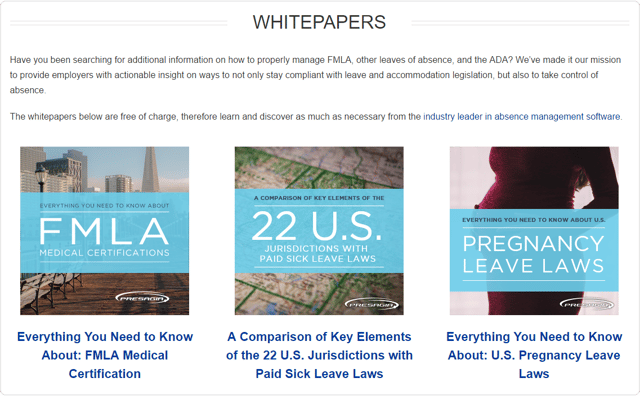 About Presagia
Founded in 1987, Presagia has a long history of helping organizations solve complex business problems with easy-to-use solutions. Today, this means providing cloud-based absence management solutions that enable organizations to be more efficient, control lost time and risk, and strengthen compliance with federal, state and municipal leave and accommodation laws.