Understanding and managing leave laws compliantly is no easy task, especially when dealing with a global health pandemic. COVID-19 has impacted many areas of leave management:
There are higher volumes of employees taking medical leaves and caring for sick family members, leading to manual leave processes being unsustainable. Many also need leave for quarantine.
Some HR/Benefits teams have witnessed layoffs, leaving them with an increased volume of work which has to be completed with fewer resources (doing so manually is near impossible).
Numerous, if not all, leave teams have had to go remote, which is incredibly difficult without a cloud-based leave software.
Leave laws are constantly being updated and new leave laws are being added, so staying up-to-date is critical.
In these uncertain times, it's crucial to use cloud-based technology to manage the increasing leave volume and complexity! It's also important to know your state leave laws!
Lucky for you, our newest infographic can help you understand the fundamentals of unpaid state family and medical leave laws, which often overlap with the Family and Medical Leave Act (FMLA), along with the newly enacted Families First Coronavirus Response Act (FFCRA).
Explore the who, what, where, when and why related to state family and medical leave laws in our brand new infographic: The 5 W's of Unpaid State Family Medical Leave. Our State FML infographic is filled with up-to-date statistics* and everything you need to know about managing unpaid state family medical leave - all in one place!
Simply click the image below (or here) to view and download a PDF of our infographic!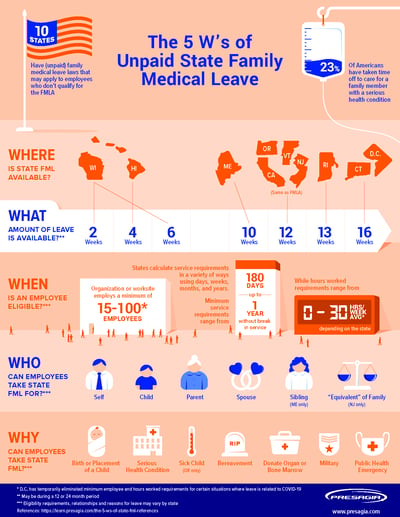 Interested in learning more about how our leave management software can help you manage the increased leave volume and compliance complexity from your home? We're here to help with our cloud-based solution, Presagia Leave!
Can't get enough infographics? Make sure to check out our FMLA Infographic & ADA Infographic too!
---
About Presagia
Founded in 1987, Presagia has a long history of helping organizations solve complex business problems with easy-to-use solutions. Today, this means providing cloud-based absence management solutions that enable organizations to be more efficient, control lost time and risk, and strengthen compliance with federal, state and municipal leave and accommodation laws.