Understanding how to provide employees with reasonable accommodations under the Americans with Disabilities Act (ADA) and the ADA Amendments Act (ADAAA) can often be challenging for employers. Each case must be assessed individually, yet managed equitably, and accommodations should enable employees to perform their essential functions, but shouldn't cause employers undue hardship.
To help you better address this tricky piece of legislation, we've created a brand new infographic: The A-Z of the ADA! Our ADA infographic is packed with up-to-date statistics about the ADA and accommodations!

Simply click the image below (or here) to view and download a PDF of our infographic!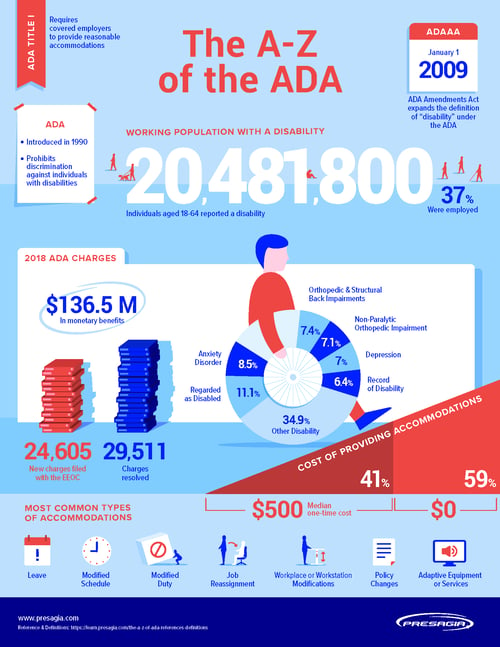 Are you interested in learning more about how software can help you manage the ADA and other workplace accommodations at your organization? We're here to help with our cloud-based Presagia ADA solution!
Can't get enough infographics? Make sure to check out our FMLA Infographic & Pregnancy & Parental Leave Infographic too!
---
About Presagia
Founded in 1987, Presagia has a long history of helping organizations solve complex business problems with easy-to-use solutions. Today, this means providing cloud-based absence management solutions that enable organizations to be more efficient, control lost time and risk, and strengthen compliance with federal, state and municipal leave and accommodation laws.