How Ultimate Software Puts Their People First With Presagia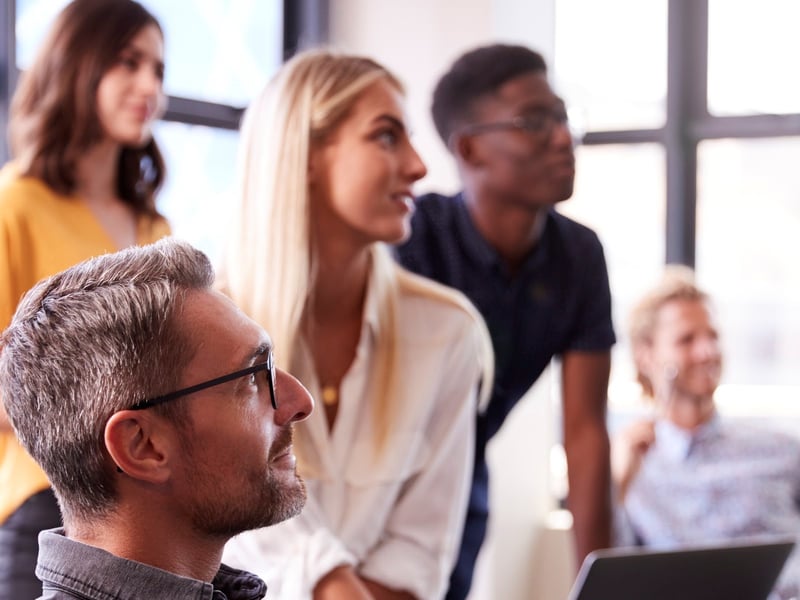 Ultimate Software provides Human Capital Management (HCM) solutions with a "People First" approach. This mission is deeply ingrained in their culture and made evident by many factors, from referring to their employees as "peeps" to being a top employer for nine years in a row in Fortune's 100 Best Companies To Work For. Everything Ulti-peeps do stems from their core values, which are Selfless, Thinkers, Relentless, One (sense of togetherness), Nimble (open to change), and Genuine, also known as "S.T.R.O.N.G." As you'll see in this case study, Ultimate's mission and values greatly influence their leave management program and trends.
To serve the 6,600+ customers they have across a wide range of industries, Ultimate is continually expanding their workforce, which grew from 5,621 peeps in 2018 to 6,906 in 2019. With a growing number of peeps across the United States and more growth expected in the coming years, the benefits team needed technology to stay on top of leave management!
Before making the switch to Presagia, Ultimate was doing what many employers do: tracking leaves manually on spreadsheets and individually filling in forms and letter templates for their employees' leave notices. They knew that to keep giving their peeps the same level of service as Ultimate grew, they needed a system that would automate the vast majority of manual leave administration tasks.
---
Putting "People First" With Presagia
Luckily, as their number of peeps and leave cases grew, Ultimate's leadership listened to their benefits team and supported their search for leave management technology.

Everything at Ultimate is about culture and creating an environment that allows their peeps to thrive. When it came to leave management, this meant finding a system that would bring efficiency and compliance to the table, while allowing the benefits team to focus their efforts on supporting their peeps. The system needed to automate repetitive administrative tasks like filling in letters, setting calendar reminders, and calculating eligibility and entitlement to save them time.

The benefits team was also spending a lot of time researching leave laws to ensure they were being compliant and treating their peeps fairly across the board. They wanted a system that would come pre-configured with the Family and Medical Leave Act (FMLA) and state leave laws and be kept up-to-date with new legislation by their leave software vendor.

This led Ultimate to their Alliance Partner, Presagia, which provides leave management software with the highest level of leave process automation and covers more leave laws than any other system on the market! Presagia takes on the responsibility of constantly updating leave rules and covers the FMLA, the Americans with Disabilities Act (ADA) and over 450 state leave laws!

Ultimate transitioned from managing leaves manually to using Presagia Leave on June 1, 2018. Now, Ultimate's benefits team manages every aspect of the leave process using the system, from receiving leave requests and sending communications to processing and closing leave cases.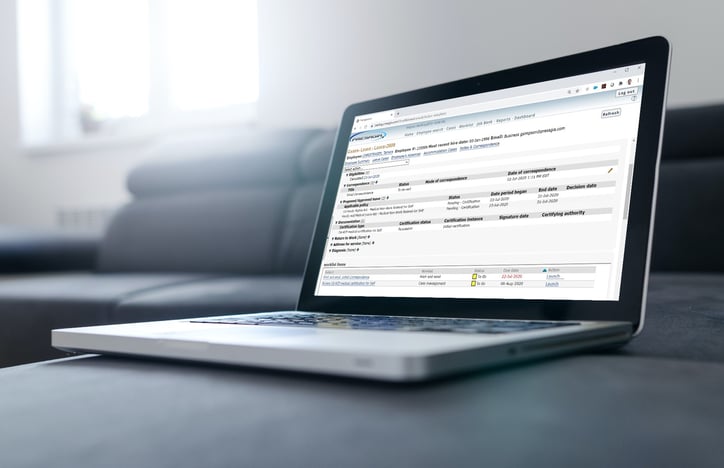 Reporting On The Results
On top of prioritizing automation and compliance, when any organization makes the switch to leave management technology, it's important to review the reporting offered by your chosen system. As Ultimate has learned, having a strong reporting tool at your fingertips enables you to monitor your day-to-day, and strategize for the future.

One of the most positive aspects of Ultimate's culture is that they have trust and cooperation from their peeps, who truly enjoy working for a "People First" company and in turn don't abuse leave. Ultimate even has an incredibly generous unlimited paid time off (PTO) policy in place for their peeps. Recognizing this, the reporting in this case study serves two main purposes:
To monitor leave usage trends to ensure they remain consistent (i.e. abuse is not increasing as they continue to grow).

To track their leave process efficiency (i.e. seeing how many case management activities they can handle with ease).

To start, we dove into the types of leaves being taken by employees, which at Ultimate is driven by Medical (Serious Health Condition, Treatment or Appointment), Bonding/Adoption/Foster Care and Military in both 2018 and 2019.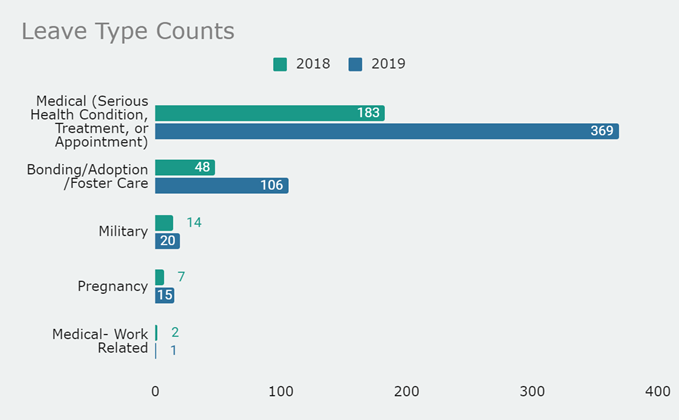 While Ultimate's overall case count and missed days increased in 2019 along with their population, we found that relative to employees who took leave, the average cases per employee actually went down in 2019!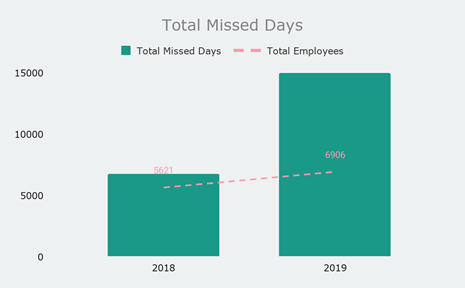 Let's break it down... Given that 176 employees took leave in 2018 over a total of 254 cases, average cases per employee equals 1.44. In 2019, 381 employees took leave over a total of 511 cases, averaging out to 1.34 cases per employee!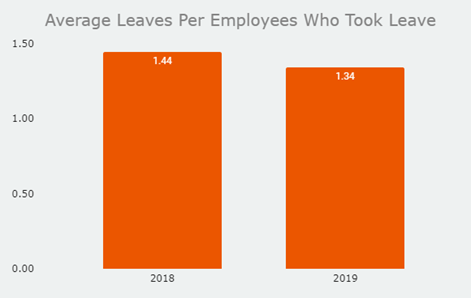 Similarly, we found that the average lost days per employee who took leave remained close to steady - in 2018, it was 38.4 days, while in 2019 it was roughly the same, at 39.2 days (assuming an eight-hour workday).

Next up, we looked at Ultimate's leave policy usage, which was consistent with the most prevalent types of leaves we saw in the previous set of reports. In both years, the FMLA and Ultimate Software Maternity Leave (a company policy) were the most utilized.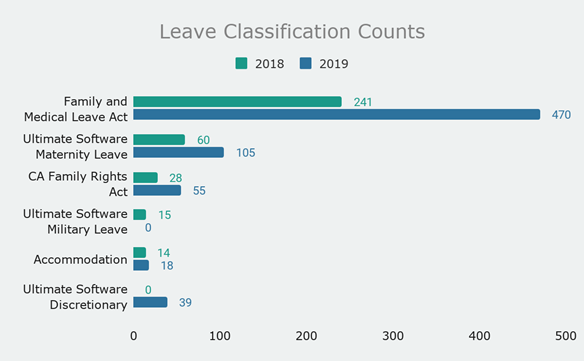 From here, we reviewed Ultimate's continuous versus intermittent leaves. Intermittent leave is known to be notoriously difficult to manage and easily abused, so it's important to know if this is an area that requires additional attention. Luckily, our findings show that Ultimate doesn't face this challenge, with intermittent leave accounting for 8.6 average missed days/leave in 2018 and 7.9 average missed days per leave in 2019!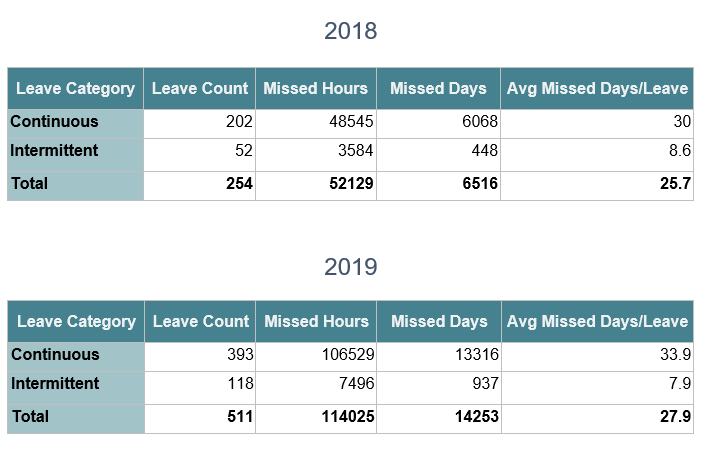 Another troublesome area can be the transition of FMLA into "leave as a reasonable accommodation" under the ADA. Again, we found no issue here as just over 10% of leave cases in the past 12 months had some form of accommodation indicated.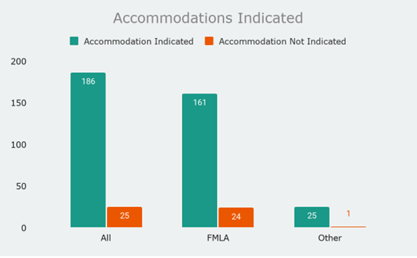 While this reporting doesn't show any particular abuse or a reduction in Ultimate's total lost days, it does provide a baseline to measure against in future years, to identify any upwards trends and address them as early as possible.
---
Leave Trends
You can also use Presagia's reporting functionality to discover leave patterns based on employee demographics! Here is a breakdown of some of Ultimate's current leave trends, as of March 26, 2020.

More females (68.5%) requested leave in the past 12 months compared to males (31.5%). Since Ultimate's Maternity Leave policy is among their most utilized, this is no surprise!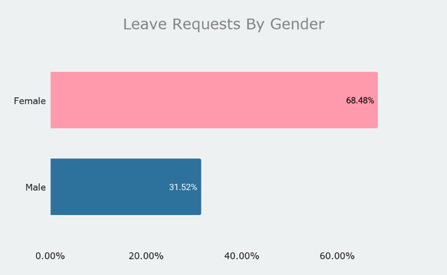 Employees between the ages of 25-34 (31.7%) requested the most leaves in the past 12 months, followed closely by the 35-44 age group (29.9%).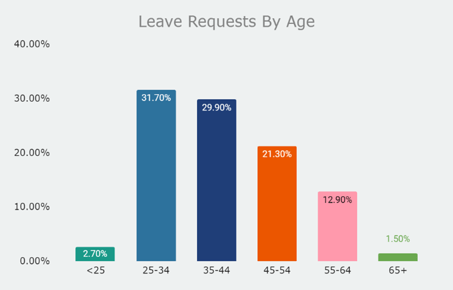 ---
Uncovering ROI Through Efficiency Gains
While some employers uncover cost-savings through a reduction in lost workdays, for Ultimate, the real return on investment (ROI) comes in their ability to efficiently manage their workload as their employee population grows, and still retain their "People First" focus. Despite their organizational growth, their two leave case managers have thrived.
Just looking at case management tasks, which includes tasks such as running eligibility and entitlement calculations, reviewing medical certifications, updating leave status, addressing entitlement exhaustion, returning employees to work, and more, Ultimate completed a total of 2,409 items in 2018 and 5,192 items in 2019. That's more than a 100% increase!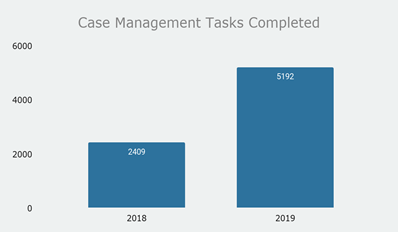 While this report enables us to see the big picture of Ultimate's efficiency gains, it's also useful to review the completion of specific steps in the leave process to ensure it's flowing properly and there are no roadblocks. Fortunately, Presagia's reporting functionality allows users to really drill down into the specifics!
One of the more onerous steps in the leave process is reviewing medical certifications. Ultimate has been able to keep pace with their growth, going from reviewing 267 documents in 2018 to 553 in 2019, by using Presagia's step-by-step medical certification review wizard. The wizard guides case managers through the entire review process, capturing the necessary information from a medical certification, such as the healthcare provider and start and end dates, and securely stores this documentation for future reference.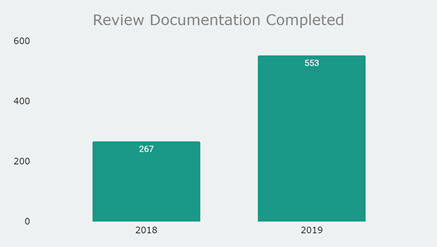 Communication is key in leave management. Generally, it's a best practice to be timely and transparent in your communications with your employees, and legally it's required to send specific notices within certain timeframes. Filling out leave notices manually can take a lot of valuable time (it can take anywhere from 10 minutes to one hour to create a correspondence package) and poses the risk of non-compliance due to manual error.

Luckily, Presagia Leave comes with leave correspondence templates for more than 35 events in the lifecycle of a leave, reminds users when to send them, and auto-fills them. That's why Ultimate's leave management team places Presagia's leave correspondence features among their favorites!
To put the benefits of automated communications into context, we discovered that Ultimate increased its volume of letters sent by over 100% in one year, going from 1,329 letters sent in 2018 to 2,773 in 2019.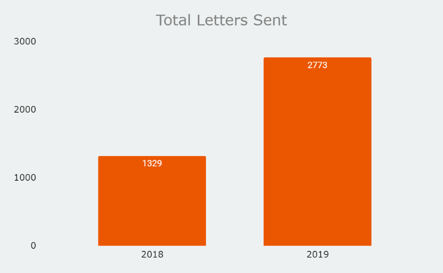 Let's break it down even further. When it comes to new leave requests, the most critical notice to send is the FMLA Notice of Eligibility, which must be sent within 5 days of an FMLA-qualifying leave request according to the law. In Presagia, this consists of a cover letter, as well as the Department of Labor's (DOL) Employee Rights, Eligibility Notice and Medical Certification. Some states, like California, have additional forms that are automatically included when needed.
As you can imagine, preparing this initial leave correspondence packet used to take up a big chunk of Ultimate's time, not to mention caused unnecessary stress, due to all of the legal deadlines. Thanks to the time savings afforded by Presagia, Ultimate sent 324 initial correspondences in 2018 and 612 initial correspondences in 2019!
Another critical, legally required notice is the DOL's FMLA Designation Notice, which must be sent once the leave determination is made. Leave determination notices are required for the FMLA and other policies, and are sent when a leave decision is made. Ultimate sent 234 of these in 2018 and 502 in 2019.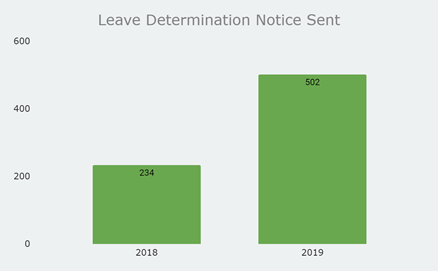 The leave notices don't end just because a leave case is almost closed. Given how much they value their peeps, Ultimate also wants their return-to-work process to be seamless. Presagia helps with this by providing automated reminders to assist case managers, which includes sending a return-to-work notice to employees prior to the end of their leave. When applicable, this includes a request for a medical release and reminders for receiving it. Not every case requires the return-to-work notice, but Ultimate went from sending 182 in 2018 to 320 in 2019.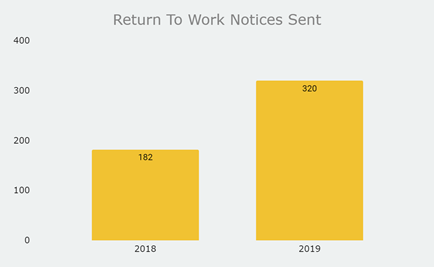 ---
Ultimate Continues Increasing Efficiency With Presagia
Ultimate continues putting their "People First" with help from Presagia. Thanks to comprehensive task automation, the benefits team no longer spends hours on tasks that now take minutes, and have been able to focus their time on their peeps' needs. They're able to process leaves quickly and efficiently, helping them complete more than double the number of case management items in a year!

Melinda and her team know that communicating and being transparent with their peeps is crucial. It's no surprise they're overjoyed to be able to send initial correspondences and leave determination notices quickly and on time with Presagia, ensuring compliance while peeps get the information they need.

Another aspect the team loves about Presagia is compliance, since abiding by the FMLA, ADA and state leave laws was no easy task when they were managed manually. They can now rest assured that they're in compliance and giving their peeps fair treatment across the board, since Presagia is constantly updating their system's leave laws. This included adding the many new laws enacted following the outbreak of COVID-19.

With the help of Presagia, Ultimate has achieved their goals of efficiency, communication, and compliance, while keeping up with their organizational growth. With continued assistance from the software that simplifies leave management, Ultimate can continue to fulfill all of their leave management goals and put their peeps first!