LHC Leverages Leave Data With Presagia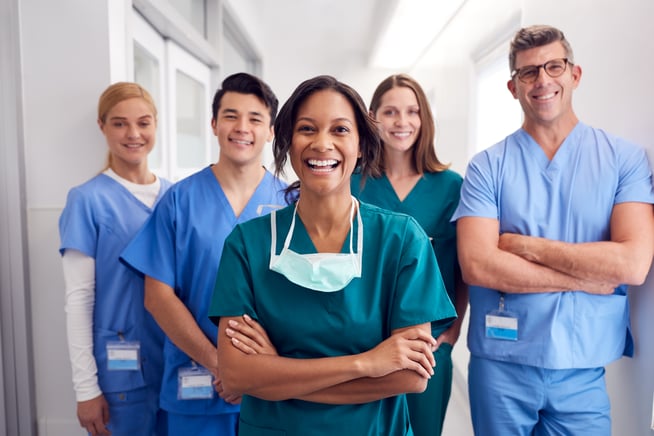 The leading provider of in-home health services within the United States, LHC Group describes itself as, "proactive and efficient in all matters of business," by supporting and nurturing a culture of innovation. Based in Lafayette, Louisiana and founded in 1994 as a single home health agency, LHC has expanded tremendously and is now operating in 36 states, while catering to the country's most vulnerable population. They do this by providing in-home healthcare services for 350 leading hospitals (780 locations in total), along with hospice, home and community-based services and facility-based care.

For a company in the healthcare industry with this size and geographical breadth, it's critical to have the right people on the ground caring for their patients. This requires a strong workforce management strategy backed by a solid foundation of people, processes and systems. LHC's leave team is an integral part of this and works diligently to support the company's number one asset - their employees. Here's their story...
The Issues
Since LHC merged with Almost Family in 2018, they've doubled their number of employees and currently administer leave for over 30,000 individuals. Jen Boutte, a leave specialist for LHC knows that managing employee leave in the healthcare industry is no easy task. As she stated, "we needed a system that could handle it all, because our goal is to be proactive and efficient in all matters of business."
LHC has a high demand for their services, which range from helping their patients manage chronic conditions to providing counseling and bereavement support services. One of the most common situations LHC's leave team sees is burnout from compassion fatigue, leading to employees taking leave. Managing a consistently high volume of leave is a lot for anyone to handle, let alone while using a system that isn't meeting your leave administration and tracking needs.
When Jen and her team came knocking on Presagia's door, they were using a system that wasn't giving them the compliance and process benefits they had expected. One of their biggest issues was the inability to mark an FMLA case as workers' compensation-related. They could only note if a leave was FMLA, limiting their recordkeeping and reporting capabilities.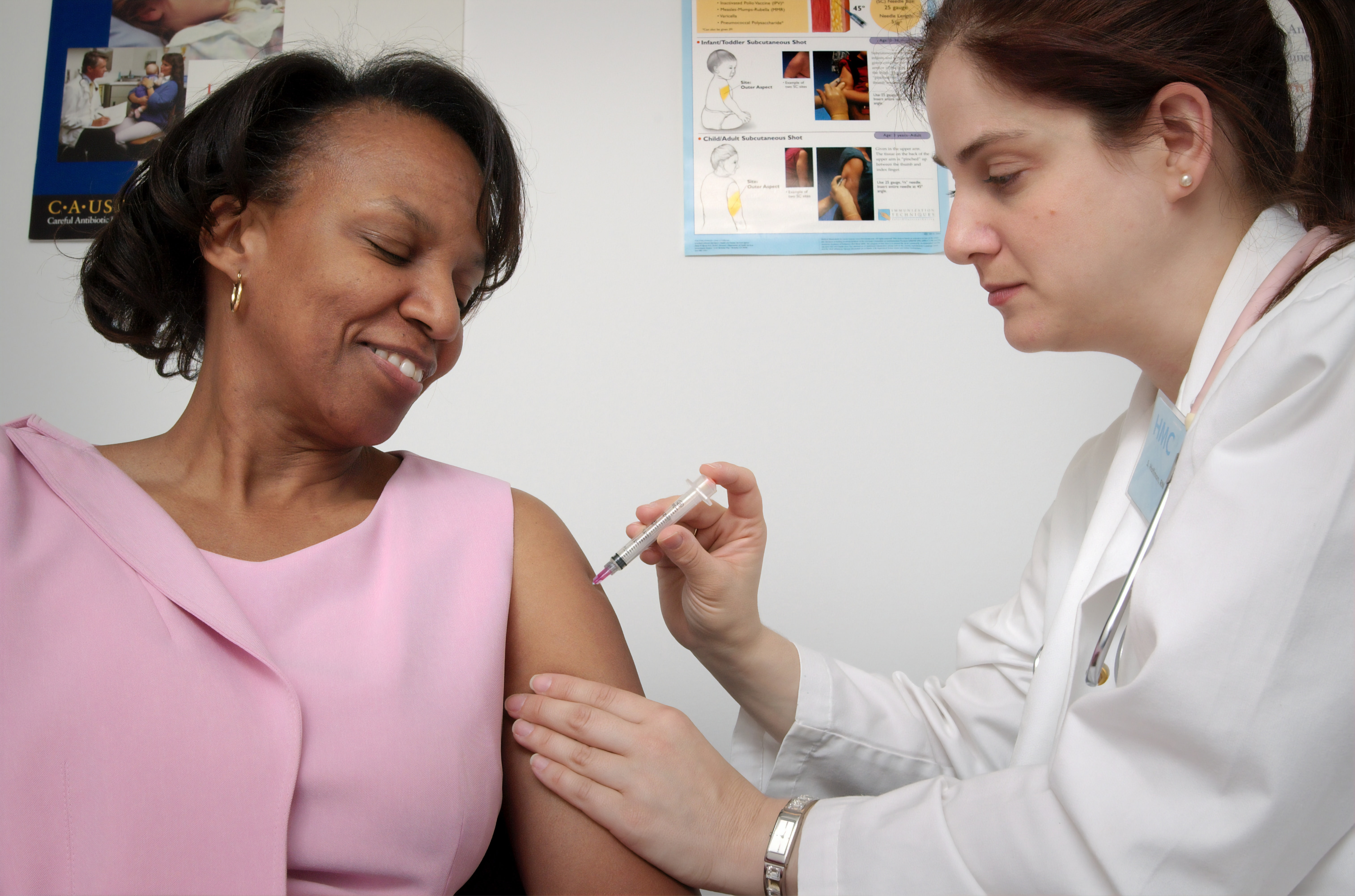 Presagia To The Rescue
Jen and her team made the switch to Presagia a bit more than a year ago and have been ecstatic with their decision ever since! Two important goals for LHC were efficiency and ensuring they were performing all steps in the leave process on time to remain in compliance with the FMLA and state regulations, and Presagia hit the nail on the head! As reiterated by Jen, "Presagia helps us maintain compliance. We can rely on the system for the most up-to-date leave laws and not have to worry. It's honestly a relief! Presagia is also able to integrate with our other HR systems to reduce double data entry."
Multiple components of Presagia's system have helped with maximizing efficiency, including Presagia's ability to integrate with their HRIS, which reduces double data entry, and gives them more time to focus on case management. For example, from May 1, 2019 to April 30, 2020, their five leave case managers processed 3,084 leave cases, that means on average they had 616.8 leave cases per case manager. What's even more impressive is the total number of case management tasks that LHC's leave management team completed - a whopping 47,227 tasks. If we add in the letters they sent, this number increases to 62,751.
---
"Presagia helps us maintain compliance. We can rely on the system for the most up-to-date leave laws and not have to worry. It's honestly a relief!"
---
Leave The Letters To Presagia
Letters are one of the biggest timesavers with Presagia. The system tells case managers when letters need to be sent according to the law and automatically generates and fills the leave letters and forms - all that's left for LHC to do is mail or email them out. To put this in perspective, it usually takes a leave manager anywhere from 15 - 45 minutes to create the initial correspondence when doing so manually, depending on the complexity of the state an employee is in.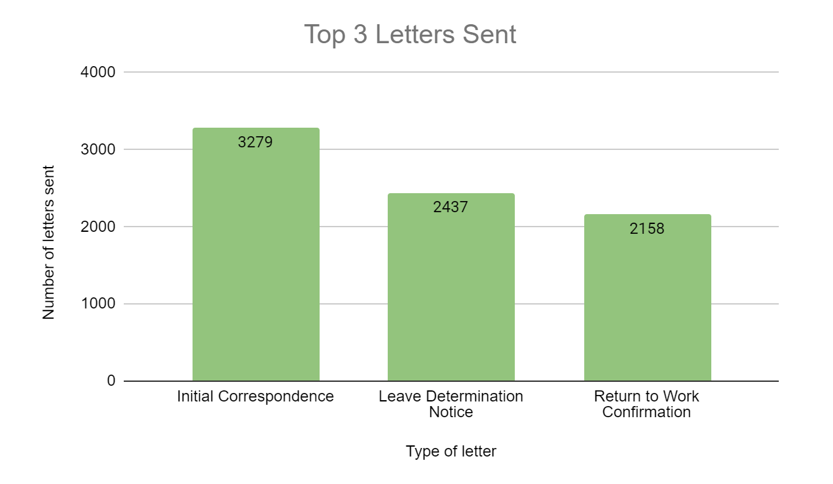 Saving Time With Self-Service
Another tool that has helped with efficiency is employee self-service. Presagia worked with LHC to embed a link within their existing employee portal and use a single sign-on (SSO) to automatically take employees to the leave request wizard within Presagia. The experience for employees is seamless and helps reduce the leave team's workload, as they spend less time on the phone fielding questions and leave requests.
The chart below looks at the employees who used self-service and how many times they did so. The self-service portal was used a total of 723 times by 626 employees, to request leave, upload documents, check the status of their cases and more.
Examining this a bit further, out of 3,084 new leave requests, 525 (17%) were through the self-service portal. Assuming it takes an average of 5 minutes to receive a leave request by phone or in person, LHC's leave team saved over 2600 minutes.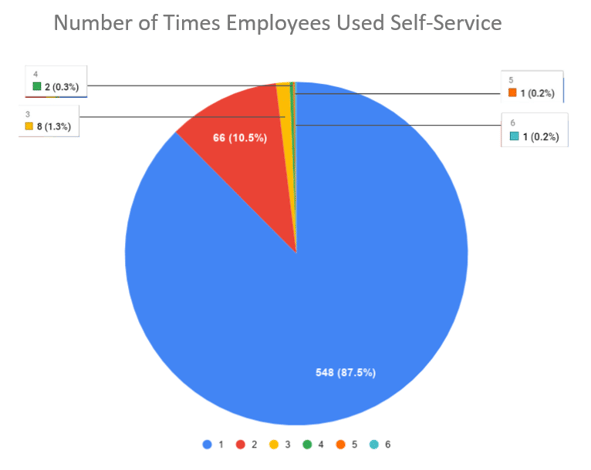 Compliance was another key goal for LHC. Given the number of states LHC covers and the fact that each state has their own leave laws, staying compliant was a tough task without the proper software in place. Managing all of these leave laws was cumbersome and considering the leave management team aren't legal experts, making the switch was a critical factor for preventing lawsuits, ensuring employees get the right amount of leave, and more.

Presagia not only provides Jen and her team with decision support for leave management cases by continuously staying up-to-date with the FMLA, ADA and 450+ pieces of state leave legislation, but is also a source of guidance, giving them clarity and peace of mind. For example, Presagia reminds Jen and her team to send notices like the initial correspondence, which is sent to an employee following their leave request. Not sending this within five days of the receipt of the request puts an employer in non-compliance of the FMLA.
---
"Managing all of these leave laws was cumbersome and considering the leave management team aren't legal experts, making the switch was a critical factor for preventing lawsuits, ensuring employees get the right amount of leave, and more"
---
Using Reports To Stay In The Know
One feature that helps Jen and her team identify long-term or overall aims is Presagia's reporting tool. "The reporting tool is utilized the most, it's easy to create and modify reports to better understand our leave metrics. It's an excellent tool to stay proactive and strategic," said Jen.
For example, using Presagia's reporting tool, the team determined that the most common reason for leave at LHC is medical (serious condition). As previously mentioned, the healthcare industry is extremely demanding so this isn't a surprise, but having access to this kind of data helps give the team insights on their employees.
The team has also been able to use Presagia's reporting tool to see areas with the most hours lost. As shown in the following sections, they've been able to pull reports on states and facilities with the most hours lost. Having access to this kind of data gives the team insights on their employees and alerts them to any areas needing intervention. They can then relay this information to the appropriate departments and managers to develop strategies and goals to reduce lost hours.
States With The Most Hours Lost
This report shows LHC's top ten states with the most hours lost, out of the 36 states they operate in. The top ten states make up 68.1% of LHC's total missed hours. To help understand this trend, we also looked at how much of their total employee population worked in these states. We found that 60.3% of employees work in the top ten states, therefore, it makes sense for them to also make up the majority of missed hours.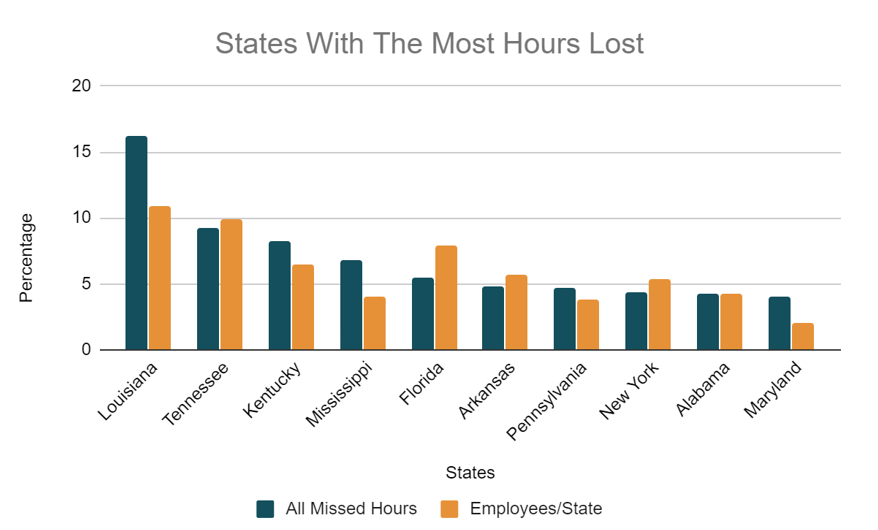 Facilities With The Most Lost Hours
This report shows LHC's top ten facilities with the most lost hours, out of a total of 455 facilities. These 10 facilities make up 25.58% of LHC's total missed hours and 18.71% of their employee population. Taking an even closer look, we can see that the top five facilities account for 16.32% lost hours across 12.1% of their employees. While this data doesn't show an alarming rate of hours lost for the top five and ten facilities, LHC can leverage this report to understand which of their facilities may be overburdened and could use more support (i.e. those whose lost hours significantly outweigh their percentage of the total population).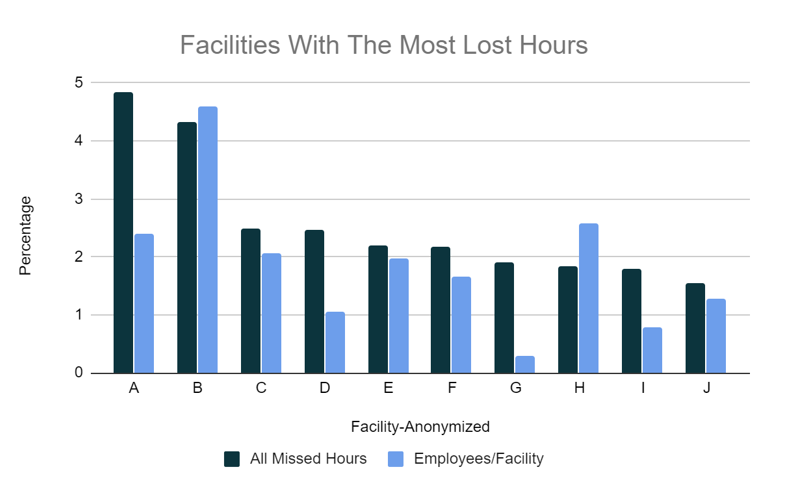 LHC Continues Onwards and Upwards With Presagia
LHC's leave management team is elated to be able to manage leave and accommodations with ease and efficiency, enabling them to give back to their hardworking staff. On top of that, Presagia easily integrated with their other systems, reducing effort and errors, and increasing efficiency.

Presagia not only saves time for Jen and her team, they also provide unprecedented customer service. As expressed by Jen, "Presagia is quick to help address issues and jump on a call if needed. We discuss what we're looking for and they help us see this through."

While they don't yet have enough historical data (as their old system didn't track all that Presagia is capable of) to track year over year reports, like intermittent vs. continuous leaves and lost workdays, the team looks forward to eventually utilizing Presagia's robust reporting functionality for benchmarking purposes, and tracking the reduced duration of leaves.

With Presagia's help, LHC has been able to achieve efficiency and compliance, their two most important leave management goals. With continued support, they look forward to accomplishing all of their absence management objectives.